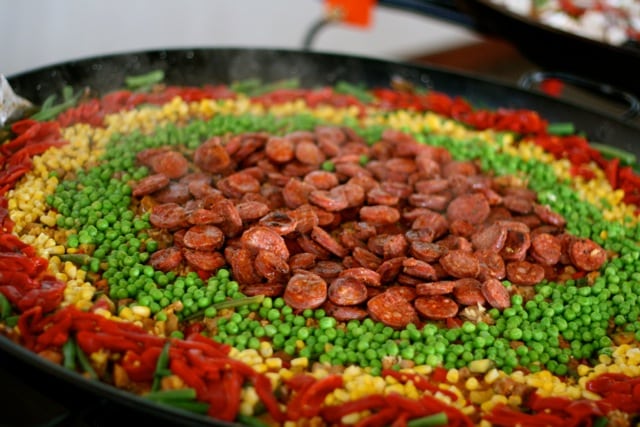 Ingredients:
Spanish rice & saffron, smoked paprika, pea, corn, sofrito, green beans, red & green capsicum roasted, piquillo, onion, garlic, chicken, chorizo and our delicious chicken stock.
Our Meat Lovers paella gets its name from the inclusion of generous portions of chorizo and chicken.
Our homemade tomato sauce known as "sofrito" makes up the base of this paella dish. It is slow cooked for 2 hours with capsicums and fresh herbs including paprika and saffron, which we import direct from Spain, to achieve a wonderfully rich flavour.
To this we add pure pork chorizo that is flavoured with paprika and garlic. It is made the traditional Spanish way with some added heat that lends itself to the rest of the dish.
We use farm fresh free range chicken thigh which is tender and rich in flavour. It truly comes alive once it's joined by the chorizo and vegetables including piquillos and roasted capsicums.
For those unfamiliar, piqullos are a member of the chilli family but unlike chillies they don't carry any heat. They have a wonderful and distinct smoky and sweet flavour which compliments our freshly roasted capsicums.
Accompany this dish with a chilled dry rosé, or a Rioja or other Tempranillo or Grenache varietal – try to keep it to the region and don't feel you have to go expensive. As with as with all paellas, avoid overly fruity or tannin-rich styles as they'll over power the flavours of the paella ingredients.
You are going to love this meeting out meat lovers paella for its visual and flavour appeal and we promise you will be lining up for seconds, or more!