Welcome to Food Adventura in May! If you are considering your options for wedding cakes this winter…
Why not 'Say Cheese?'
Have a wedding 'cake' made with whole cheeses. Sometimes called cheese towers, these fabulous creations are also suitable for birthdays, anniversaries and any other parties.
Remember, it's not a cheesecake. It consists of several varieties of cheese arranged one above the other in the same way that the tiers of a traditional wedding cake are arranged. To make it look like a traditional cake, round cheeses of varying diameters are used. All the bases for cheese lovers' tastes can be covered – from brie to blue, from camembert to Cheshire, from goat's cheese to gouda!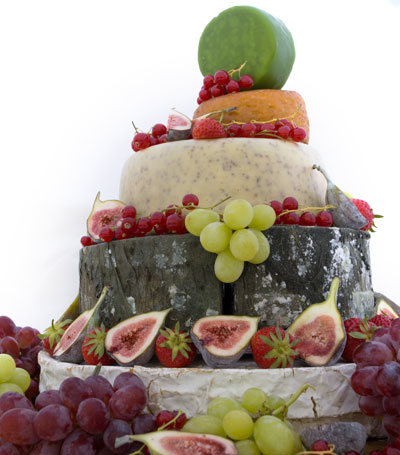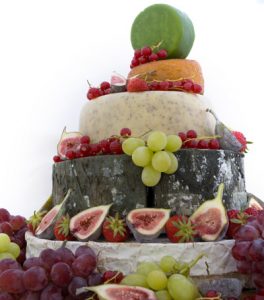 WHY CHEESE?
Some people simply do not like traditional fruit cakes – the 'heaviness' of marzipan, chocolate, icing, or any of the ingredients of a traditional cake. For gluten intolerant people, cheese is an ideal choice for 'pudding'.
Cheese cakes are suitable for anyone who would prefer a savoury cake or who would like a cheese course at their wedding in addition to the usual type of cake. There is a current trend for these cakes and they appear to be increasing in popularity, judging by the number of cakes we have supplied and the amount of queries we have received.
Of course, there is the alternative option of having a fruit/chocolate cake and a selection of cheeses displayed as a traditional cheese board.
Just contact us at Food Adventura to make all your cheese choices!
Food Adventure are the best rated paella catering sydney providers. Please see our home page for more information.