Our canapés and tapas are made fresh on site by our chefs using locally sourced produce.
A selection of hot and cold cocktail canapés are available, with gluten free and dairy free options to choose from.
These mouth-watering Spanish favourites can be beautifully presented buffet style or served to your guests by wait staff.
Please contact us for the full menu.
Minimum of 30 guests required.
Here is a taste of our most popular options.
On Crispy Bread (Gluten free available)
Dark rey toasted bread | spicy lemony avo cream | dill
Light toasted Catalan bread | fresh tomato | 12 months cured Spanish Serrano Ham
Light toasted Catalan bread | fresh tomato | 9 months cured Spanish Manchego cheese (Veg)
Spanish ham and a slice of Manchego cheese on crispy bread
Authentic Spanish chorizo | chimichurri | char-grilled sourdough
The Classics (Gf Free Available)
Beef meatballs | garlic | tomato sauce
Marinated chicken | chilli | lemon | chipotle sauce
The Croquetas (Gf Free Available)
Fresh spicy chorizo | rich bechamel | tomato relish
The Empanadas (Gf Free Available) Empanadas are stuffed dough pockets
Chicken | sundried tomato | onion | cheddar | ranch dressing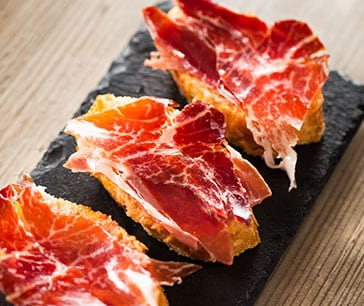 "Savoring Tradition: The Enchanting Tale of Spanish Tapas" Introduction: In the heart...